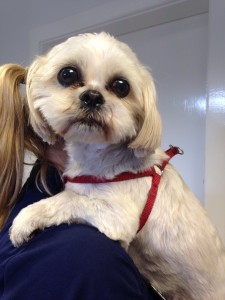 Daisy is usually a very cheeky little Shih Tzu. However, she presented at Hollybank as she had been very lethargic and off her food. On exam, she had pale gums, a fast heart rate and very strong pulses. We were concerned that Daisy was showing signs of anaemia; this is a reduction in the number of circulating red blood cells (RBC's).
We took some blood from Daisy and ran these in our lab. It was evident on Daisy's blood work that she was anaemic. However, it was also evident that her body was trying to produce new red blood cells. We refer to this as 'regenerative anaemia'. This is important as it shows Daisy still has the ability to make red blood cells. The possible causes of her anaemia therefore, were loss of RBC's (internal or external bleeding) or destruction of RBC's (haemolysis).
Daisy had no evidence of external bleeding and on an abdominal scan had no evidence of internal bleeding either. We were therefore left with destruction of RBC's. There can be many reasons for why our RBC's are destroyed. These can include:
Parasites: Babesia within RBC's
Damage to RBCs: this is often toxin or drug related, RBC's travelling through cancerous masses or abnormal tissue can also become damaged
Immune mediated haemolytic anaemia (IMHA); the immune system attacks its own RBC's. Usually there is an underlying 'trigger' to this such as an inflammatory process elsewhere in the body. However, sometimes this 'trigger' cannot be found.
Lots of further testing and investigations can be required to help rule in or out some of the above diagnoses. This can include sending blood away for specialists tests and imaging the body to look for associated disease. However, we elected to run a few more tests in our own lab first. We looked at Daisy's blood under our microscope. We also performed an auto-agglutination test; this is where we place a drop of dilute sodium chloride with a drop of Daisy's blood and observe how her RBC's interact.
Under our microscope Daisy's blood had some characteristics very common to IMHA and she had a positive auto-agglutination test. Although we could not entirely rule out some of the other diagnoses we elected to treat Daisy for this condition.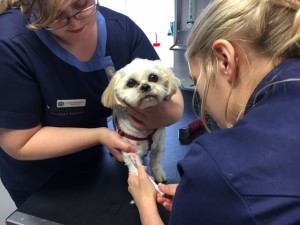 Treatment  for IMHA is targeted at the immune system; it involves long courses of steroids which act to suppress Daisy's inappropriate immune response. We started Daisy on a high dose of steroids initially. We then re-examined her every couple of days to ensure she was responding to our treatment. We also took a small blood sample to measure her RBC count.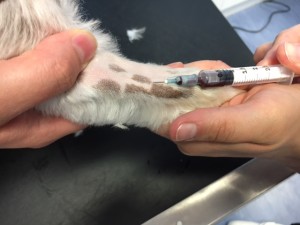 Daisy responded really well and within the first few weeks her RBC count was back to normal. Due to the nature of IMHA we had to continue this treatment for longer to ensure her RBC count remained stable over the next few weeks.  We also sent some blood to a specialist lab; they looked at it under their microscopes to confirm there were no longer any changes consistent with IMHA.
With all of her visits Daisy soon became very well known by everyone in the practice, always attracting attention and cuddles! She was extremely tolerant and well behaved for her regular blood tests too.
With a normal RBC count and no evidence of active disease in her blood we confirmed that Daisy had entered 'remission'. The next step was to reduce the steroid dose over time. This must be done slowly and with continued monitoring to ensure there were no signs of 'relapse'. Our overall aim is to stop the steroids all together, however in some of these cases steroids can be needed ongoing.
After a long process, regular visits every 1-2 weeks and committed owners, Daisy is now back to her normal bouncy self and completely off the steroids! We hope that she stays that way!