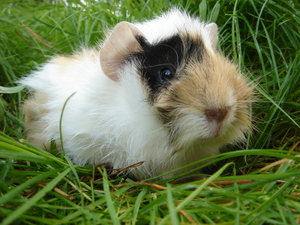 Sadly today we have had to say goodbye to one of our resident Guinea Pigs, Stacey. Stacey has been with us from the beginning and over the years has been involved with many school visits, summer galas and fairs as well as Brownie and Scout visits. Over the past few years she has often been out and about squeaking at our clients and their pets as they pass. She has been a wonderful girl and has lifted many spirits with her cheeky attitude!
Unfortunately we recently diagnosed her with cystic ovaries. As well as this, we found out today that she also has a problem with her kidneys and have had the make the very difficult decision to put her to sleep.
Stacey will be greatly missed at Hollybank, not only by us but also our other Guinea Pig Nessa who has been her best friend since they arrived.