Cat Burdett RVN CertVNECC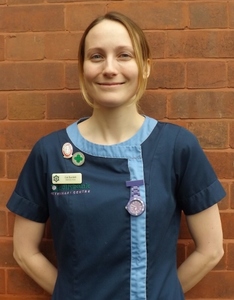 Cat is one of our qualified nurses and has been working in practice since July 2006.
Cat grew up in Weaverham and began working at veterinary practices in Northwich. She then moved away to Worcestershire where she completed her training and gained her qualification. She joined Hollybank as a Registered Veterinary Nurse (RVN) in 2012.
In work Cat has a keen interest in feline nursing and has achieved a distinction in the advanced award in feline nursing. She also holds a Certificate of Veterinary Nursing in Emergency and Critical Care.
Outside of work Cat likes to grow her own veg and enjoys baking and decorating cakes! She also has a motley crew of 3 cats – Bingo, Oscar and Patch.
Leonie Handford RVN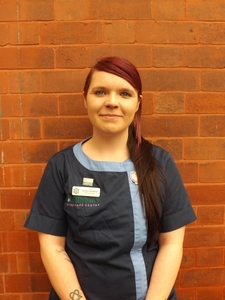 Leonie completed her degree at Myerscough College, qualifying in July 2014 as a Registered Veterinary Nurse. She joined Hollybank in September 2014. She is very interested in canine behaviour, exotics and enjoys learning about wound management.
At home she has a Staffordshire Bull Terrier called Guiness, two bearded dragons called Kiyo and Bandit and an axolotl called Lottie. In her spare time she enjoys walking her dog, horse riding and music festivals.
Leonie has a particular interest in physiotherapy and has recently gained the BSAVA Vet Nurse Merit Award in Physiotherapy and Rehabilitation.
Aimee Richardson RVN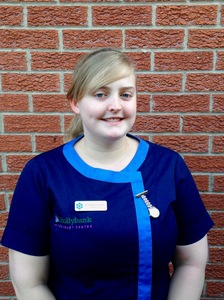 Aimee began working at Hollybank in June 2015 after completing a degree in Veterinary Nursing at Harper Adams University. During Her training she worked at a small animal practice in Manchester and following university moved to Cheshire.
She particularly enjoys medical nursing and is interested in canine and feline behaviour.
Outside of work, she enjoys caring for her three cats, Sooty, Bambi and Arthur, and two rabbits, Buzz and Woody. She also likes to read and bake.
Alicia Steele BSc RVN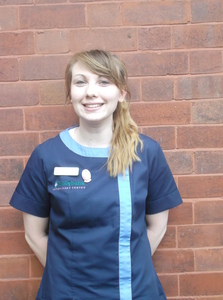 Alicia studied a Veterinary Nursing degree at Myerscough College and became a Registered Veterinary Nurse in July 2015. She had always wanted to work with animals and enjoys all areas of nursing, not only caring for the animals but also the clients.
Alicia doesn't own any pets at the moment but has owned hamsters, has fostered a terrapin called Ned and also pet-sits for family and friends.
In her spare time she enjoys days out with family and friends, live music and holidays to Cornwall.
Katie Davies SVN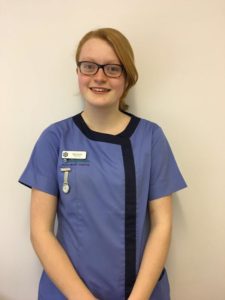 Katie is currently studying BSc Veterinary Nursing at Harper Adams University and is doing her placement year with us at Hollybank. Katie particularly enjoys caring for our feline patients and making them feel at home when they are staying with us.
She has just moved to Sandiway from Shropshire, and is enjoying getting to know the area and local walk ways. Katie owns two goldfish, Oliver and Chester, and a cat called Merlin, who lives back at home on her family farm.
Claire Hall SVN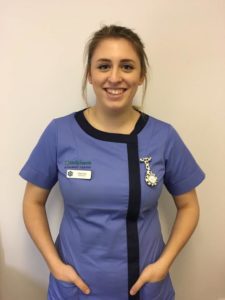 Claire is a BSc Veterinary Nursing student at Harper Adams University who is currently completing her sandwich year placement with us.
She has moved into her new flat in Sandiway from Manchester and is enjoying her medical nursing module. She has a keen interest in neonatal after care and reproductive disorders. She has two rabbits back home called Oreo and Bailey and hopes to get her first puppy after university.