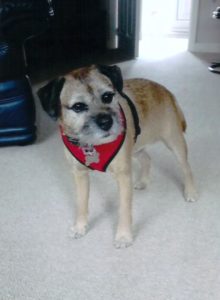 Meet Sniffkin, a brave 11 year old Border Terrier who was very sick a few weeks ago. Sniffkin was brought to Hollybank one Saturday morning as he had vomited throughout the night and seemed very unwell. Sniffkin was dehydrated with a very painful abdomen. He would flinch when his belly was touched and it was clear from the outset that controlling his pain needed to be a priority.
Sniffkin was admitted for further investigations as it was not possible to say from examination alone what was causing him to be so under the weather. He benefited from strong pain relief called methadone which is similar to morphine but has fewer side effects. Sniffkin was treated with a drip and blood tests showed he had very high liver enzymes. These elevations caused suspicion that Sniffkin's liver could be involved in the illness. However, further investigation was needed as liver enzymes can increase in response to abnormalities in lots of other area in the body.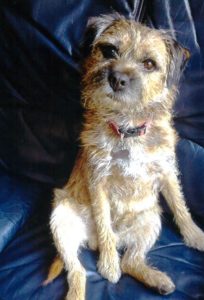 An ultrasound scan of Sniffkin's abdomen was carried out. We were looking for abnormalities in his liver tissue, perhaps even a tumour as Sniffkin is quite an elderly gentleman. We also needed to check the stomach and the rest of the gastrointestinal tract in case there was an obstruction there. We kept our eyes peeled for any signs of abnormal fluid accumulation (free fluid) in the abdomen that might indicate serious inflammation or even a rupture. It was a very worrying time for Sniffkin's owners who were waiting at home, desperately hoping Sniffkin would pull through. No significant abnormalities were seen on the scan at this stage and over the course of the weekend, Sniffkin's demeanour improved in response to the treatment he was receiving.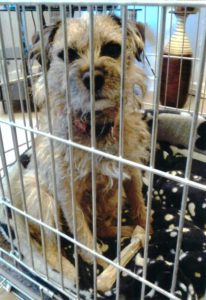 It was good news that Sniffkin seemed to be feeling better but still we didn't have an explanation for the high liver enzymes. This is not an uncommon scenario; sometimes blood tests show up abnormalities that are not linked to the signs we are treating. Part of our detective work involves deciding what is significant and to what extent and at what time it should be followed up.
We didn't have to wait long for the next development as Sniffkin's condition deteriorated on the Sunday night. He began vomiting again and we knew we would have to repeat some steps to see if anything was changing. Again, this is an important part of our diagnostic work up. Often subtle changes in our findings are even more significant than any one result. Sniffkin's story is a good example of this!
Since Sniffkin had benefited from stabilisation on the drip and pain relief, we were able to get a more thorough look inside his abdomen at the time of the second scan. The "free fluid" accumulation we had been looking out for was now present, albeit in a very small amount. This was an indication that we needed to track down a source of severe inflammation in the abdomen. The fluid was seen close to the liver which provided a clue that the source of inflammation would be close to the liver. With gentle persistence, we got a good look at Sniffkin's gallbladder.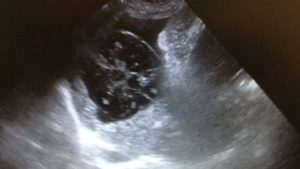 Immediately, it was clear that the contents of the gall bladder were very abnormal. The fluid within the gall bladder is called bile and on a normal scan it appears black. In Sniffkin's case, the gall bladder and its contents had a solid, star shaped appearance. We now had reason to suspect the gall bladder was obstructed, preventing bile flowing out to aid digestion in the normal way. The star-like appearance on the scan was because the bile had turned into a semi-solid jelly-like consistency and was sticking to the walls of the gall bladder. This is called a gall bladder mucocoele. The fluid accumulation in the abdomen meant there was a high chance the gall bladder had ruptured causing life-threatening inflammation and infection.
Sniffkin's worried but dedicated owners had a very difficult decision to make. The only treatment for a mucocoele like this is surgery to remove the obstructed gall bladder and to flush the abdomen thoroughly. Although absolutely necessary, the surgery carries quite high and specific risks. Antibiotics, ongoing pain relief and intravenous fluids are required but without surgery, they would not be an effective treatment. Sniffkin's owners had only a very short space of time in which to make a huge decision. Their little boy was now an emergency case and would need specialist surgery and aftercare as soon as possible if he was to have a chance of making a recovery. The only other option would be for Sniffkin's mum and dad to make a devastating decision. To complicate matters further, in common with a lot of older patients, Sniffkin has an unrelated condition in his spine that a prolonged recovery period could destabilise. For Sniffkin's devoted owners, this was a terribly difficult time. They bravely decided to pursue referral for specialist surgery. Sniffkin was taken to a nearby specialist hospital and had surgery that morning whilst everyone waited anxiously for news.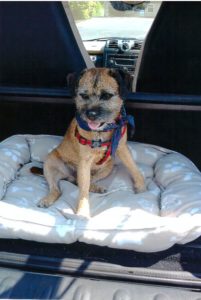 Thankfully, this wonderful patient made it through surgery and day by day, showed subtle signs of improvement. The risk of losing him however was still high and he was cared for intensively for several days. Sniffkin is a sensitive boy, devoted to his adoring mum and dad. He didn't much enjoy his period of hospitalisation away from them. Because he would only eat for his mum and dad, he had to be discharged earlier than planned! Once home, Sniffkin went from strength the strength. He has post operative checks at Hollybank and with his specialist. His latest blood tests have shown a dramatic improvement in his liver values. We are delighted to report this fantastic little boy has made a full and very welcome recovery- Keep an eye out for him on his walks around the village!