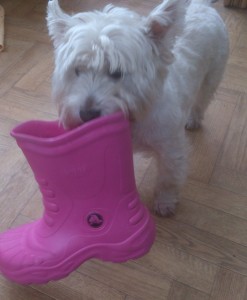 Bert, an eight year old Westie who lives with his brother Ernie, came to see us in August for his yearly booster.  His owner mentioned that over the preceding few days he had seemed sore when the top of his head was touched.  There was a slight discolouration to his skin and we decided to try some pain relief to see if it settled.  A few days later the discolouration was worse and appeared to be a bruise around his eye that was a little puffy.  Bert was known to head butt the dog flap and so we wondered if that might be the cause.  Given he had no other signs he had some different pain relief to try.  If it didn't improve we were going to need to do further investigations.
Initially it seemed to be getting better and Bert was more comfy – but a few days later things had worsened again.  The swelling around his left eye was more marked and Bertie was miserable.  We decided to send Bert for a CT scan of that area.  This can be more sensitive than an x-ray and we were keen to find out exactly what was going on.  Bertie was started on antibiotics whilst we waited for the scan at a specialist facility – an infection or abscess was a possibility but we were concerned about a tumour too.
The CT scan confirmed Bert sadly had a tumour.  It was involving his skull around his eye and also in his sinuses.  A biopsy was taken at the time of the scan and we waited for those results to decide what we could do next.  Unfortunately the tumour was not operable but chemotherapy or radiation therapy might be appropriate.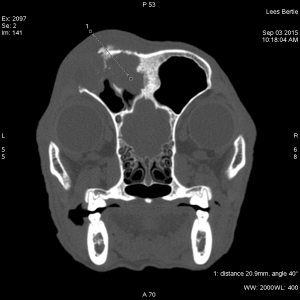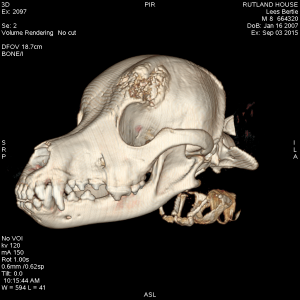 The sample results came back as inflammation – but we were concerned that was not a true representation of what was going on and a deeper biopsy needed to be taken.  Another biopsy was taken here. We tried to go as deep into the mass as we could, mindful of the fact that Bertie's brain was sitting just behind and if we went too deep we could cause problems.  The bone was very crumbly but we were able to take a good biopsy.  This confirmed that Bert was suffering from a carcinoma – a malignant cancer that is normally very invasive.  Bertie also had an infection in his left eye now, likely a result of not being able to use that eye properly as the mass was getting larger.  He was started on some eye drops which his owner got very good at putting in quickly as Bert was less than keen!
We had a big chat with an oncologist about the best next steps for Bertie. Options included radiation therapy or chemotherapy.  After discussion and weighing up the pros and cons of each we decide to embark on chemotherapy.  Tumours of the sinus such as Bert's are pretty rare and so we could not be certain how well he would respond but we all wanted to give him the best chance of more, good quality, time, with his owner and his brother.
Dogs and cats tend to cope with chemotherapy very well.  It is imperative that they have good quality of life whilst they are having chemotherapy and so we have to make sure that they remain well.  They don't tend to suffer from hair loss and nausea is less common too.  Bertie was started on a regime that involved him coming in every 3 weeks.  He also had some anti-sickness and anti-diarrhoea tablets in case he needed them.   He also continued on three types of pain relief as we wanted to make sure he was definitely comfortable.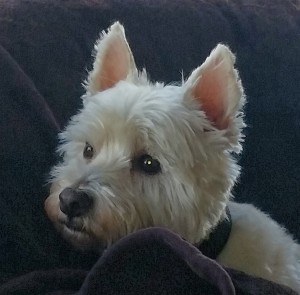 Bertie really improved after his first session of chemotherapy.  He didn't really suffer from any side effects and the mass shrunk a little.  He was bright and lively and went on holiday with his owner and Ernie.  He went running on the beach and had a really lovely time.
Sadly, a few days after returning from his holidays Bert began to be poorly.  He had some more medications to try and improve things but he developed a nose bleed.  The swelling around his eye worsened again and he wasn't happy.  His owner took the very difficult decision to put Bertie to sleep.  We were all so pleased he responded well to his first session of chemotherapy – it gave him some really good quality time with his family and allowed him to enjoy his holiday to the beach which he loved.
Bertie was a one-off.  He will always be remembered with a smile.  He was feisty, knew his own mind and made sure we behaved ourselves!  But he was also affectionate and brave and we miss him.